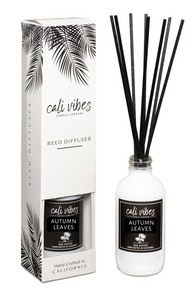 Wrap yourself in the smell of autumn air with our vibrant Autumn Leaves fragrance. This warm and inviting fragrance starts with top notes of Apples and Berries and boosted with Cinnamon and Vanilla. It captures the essence of Fall!
Top Notes: Apples & Berries
Bottom Notes: Cinnamon & Vanilla
Our Reed Diffusers are hand-poured with essential oils and phthalate free fragrance oil.  It will typically last for 2 to 3 months. 
Instructions:
Step 1: Set reeds aside
Step 2: Remove glass bottle from packaging and gently remove cap
Step 3: Insert Reeds into glass bottle and fragrance will diffuse within 24 to 36 hours.
Step 4: (optional) Carefully flip reeds for instant fragrance and enjoy!